If your company is looking to implement laboratory informatics software learn more about our LIMS Services and connect with one of our services experts.
Astrix Laboratory Informatics Professional Services
For over 25 years, Astrix has been a market-leader in scientific informatics and laboratory technical services.  We use a unique, yet innovative approach to select and deploy technologies & solutions that:
Solve critical business challenges and accelerate digital transformation of the laboratory.
Turn disparate data into actionable information for workers.
Increase operational efficiency in and around your laboratories.
Help ensure government & industry compliance.
We don't sell or resell software.  Our focus is on implementing the correct technologies to solve each client's unique problem.
We implement solutions using a technology and process agnostic approach.  No two problems are the same and this approach has been an underpinning of our 25+ years of delivering successful projects for our clients.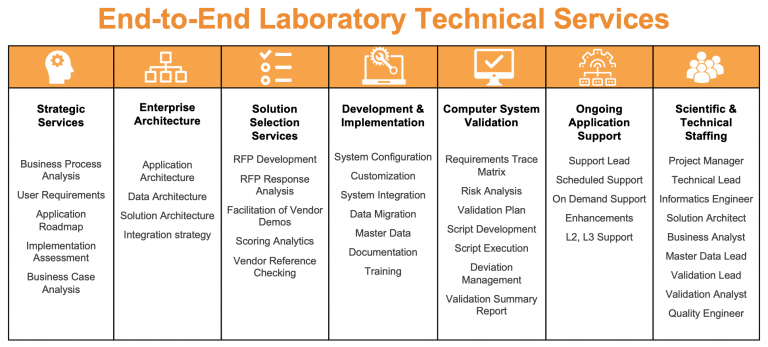 Astrix Services include:
Strategic Services – align processes, goals, and technology to ensure your project maximizes business value for your organization.
Enterprise Architecture – leverage 25+ years of  industry best practices for system design to maximize ROI for your organization.
Solution Selection Services – evaluate & chose the best, modern system to solve your unique challenges and meet your organizational goals.
Development & Implementation – complete LIMS development and implementation into your existing IT environment.
Computer System Validation – make sure all of your laboratory systems stay compliant with industry and government regulations.
Ongoing Application Support – on-going support for your Laboratory Informatics systems utilizing a Application Support Program (ASP) model that includes options for On Demand Application Support, Scheduled Application Support and Support Lead.
Scientific and Technical Staffing – our team can serve as an extension of your team to help supplement technical capabilities, serve as a client advocate, share best practice knowledge learned from similar implementations and accelerate your timelines.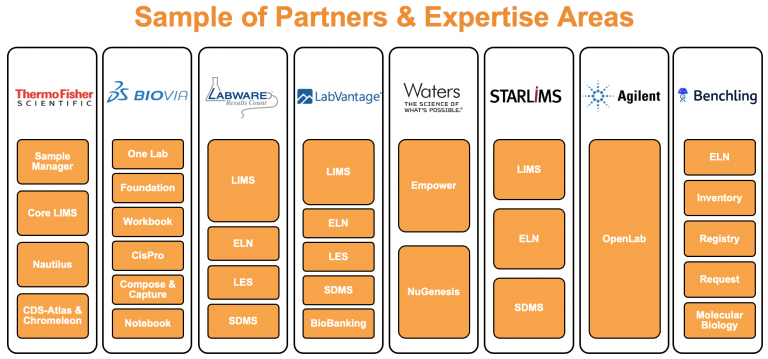 Whether you are looking for help desk support, or a complete LIMS solution that includes hardware, software and service, Astrix can accelerate a solution that is unique for your organization's needs.
Benefits of Astrix Laboratory Informatics Services include:
Peace of mind

 – We provide 24×7 proactive monitoring and management of your laboratory systems and guarantee functionality with an SLA.

Lowers total cost of ownership (TCO)

 – on-demand services where you only pay for what you use.

Stay focused on your core business

 – Leave the complex IT work to us and focus your resources on core business activities.

Simplified business

 and billing

 – Replaces the need to communicate with and manage multiple vendors with a single point of contact.

Reduced system maintenance 

– System and equipment maintenance required by your in-house IT can be dramatically reduced.

Reduced system down time – 

Down time for your applications due to technical issues, upgrades, patches, etc. is dramatically reduced.

Reduced risk

 – We take care of security and compliance issues so you can stay focused on your core business.

Improves business flexibility and agility 

– Services are easily changeable to meet changing business needs.

Consistency 

– Your informatics applications are monitored and managed against pre-determined SLAs/KPIs.

Faster Time

-to-Market

 – Increased focus on core business activities and reduced compliance risk enables a shorter timeline to bring your products to market.