Thank you for your interest in our Waters Empower 3 White Paper
Click the image below to download your copy now.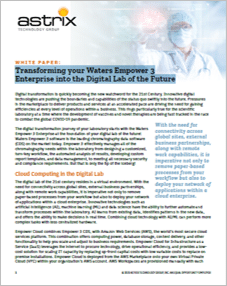 About Astrix and Waters Empower3
Astrix Technology group is  a premier provider of value-added services for Waters Empower 3 Software, which is the leading chromatography data software (CDS) on the market today.   Waters Empower 3 makes it easier than ever to run samples and produce meaningful results in the lab without experiencing downtime for training, re-engineering workflow, or adding new software to support instruments or advanced chromatographic techniques.
Astrix' services for Waters Empower 3 include:
Business requirement analysis & project management
Cloud migration
Design and implementation
Data migration
System integration/consolidation, configuration
Testing and user training
Systems validation & data integrity assessments
Custom fields development and validation
Optimized reports
The Astrix Team contains highly experienced and knowledgeable Waters Empower 3 experts that bring together the technical, strategic and content knowledge necessary to effectively implement Empower 3 into your laboratory, as well as integrate any instruments to the system. Our comprehensive Astrix Approach methodology helps to maximize both user adoption and business value from your system, while also minimizing project risk.