2022 Laboratory Informatics Report –  How LIMS and Lab Technology is Enabling the Digital Lab of the Future
The Astrix Laboratory Informatics 2022 report offers laboratory leaders and managers useful insights into your peers' recent decisions, plans, and digital enablement practices, in the face of industry trends, designed to inform your own decisions about digital transformation.
This report has been created to assist you to:
Review and consider the current thinking of over 100 peers as you plan for digital enablement in your life science lab
Identify the true drivers and characteristics of successful digital transformation
Understand barriers to modernization that may be confronting—and slowing—a lab of the future initiative in your organization
Benchmark—and inform—your progress, using the Organizational Preparedness Assessment for Digitalization (OPAD) included in the report. This new tool is designed to assist you and your team in identifying, isolating, and solving, specific challenges before they negatively impact your budget and operations
We invite you to download a complimentary copy of the Laboratory Informatics 2022 report.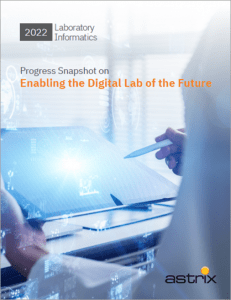 More About Astrix 
Astrix is the market leader in dedicated digital transformation & specialized staffing services for science-based businesses.
For 25+ years, we have been delivering dedicated information technology consulting, regulatory advisory services and specialized scientific staffing to science-based businesses around the world. We can assist in augmenting your internal resources with expert services and on-demand specialized scientific staffing when you need it. It is our goal to simply do it right – on time – and within budget. We work everyday to create value and build trust with our clients, employees, partners and vendors. 
Through our proven digital quality, compliance, and laboratory informatics services we can offer true digital transformation resulting in predictive insights, accelerated product development and superior quality to your patients and customers around the world.
Underpinning this deep desire to satisfy you is a set of core values by which we do not waiver. It is our intent to build trust and value in the business of science and demonstrate the highest level of integrity and quality in all the actions we take and in the results we deliver.