Supercharge Your QMS Strategy
Reduce compliance risk and achieve operational excellence with Astrix.
Organizations are faced with challenges with maintaining compliance to their Quality Management systems as well as regulatory requirements. With the advances of platforms and technologies being implemented across the supply chain, it is critical for organizations to focus on optimizing and driving operational effectiveness of their Quality strategies across the enterprise. Astrix is an industry leader in providing services across the Quality spectrum to help our clients bring in efficiencies and insights to their overall Quality programs.
Our eQMS service offerings cover key strategic, technical, and operational areas of your organization to optimize efficiencies and reduce risk: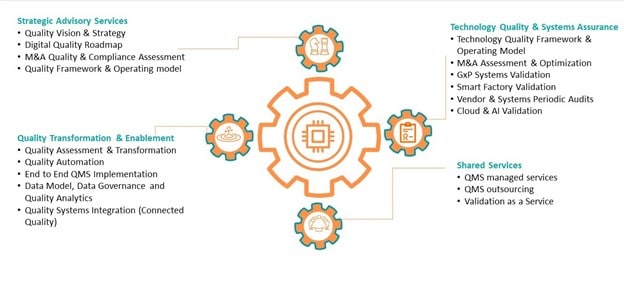 Strategic Advisory Services

Quality Vision & Strategy
Digital Quality Roadmap
M&A Quality & Compliance Assessment
Quality Framework & Operating model

Technology Quality & Systems Assurance

IT Quality Framework & Operating Model
M&A Assessment & Optimization
Validation (e.g.ERP, LIMS)
Product & Site validation
Vendor & Systems Periodic Audits
Digital Validation ( AI. SaMD, Cloud)

Quality Transformation & Enablement

Quality Assessment & Transformation
Quality Automation
End to End QMS Implementation
Data Model, Data Governance and Quality Analytics
Quality Systems Integration (Connected Quality)

Shared Services

Shared Services
QMS managed services
QMS outsourcing
Validation as a Service
Our expertise across a variety of technologies enable us to quickly evaluate current process and system efficiency as well as determine the level of compliance risk and work with you to implement changes and optimize outcomes swiftly.  Contact us today to get started with our team of experts.