Expert news and insights for scientific & technology professionals.
The Life Science Industry Blog for R&D Professionals
Staffing Agency FAQ Candidate Guide: Frequently Asked Question and Benefits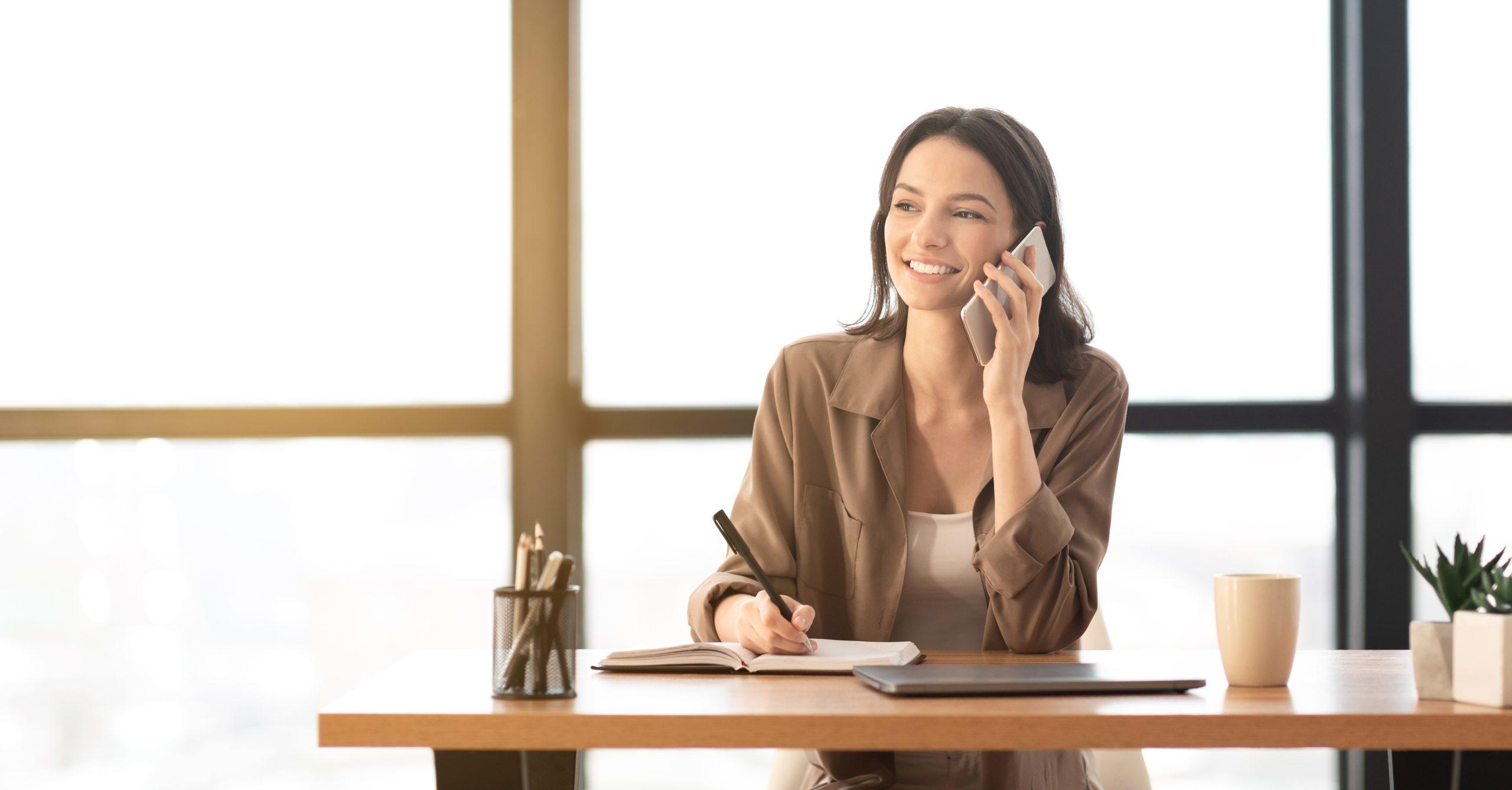 What is a staffing agency?
A staffing agency is a company that matches workers with open positions. Staffing agencies collaborate with companies to help them find workers for temporary, temp-to-hire, or direct hire positions. They also work with job seekers to help them find employment.
I've never used a staffing agency – how does it work?
When you work with a staffing agency, you'll meet with a recruiter who will get to know you and your career goals. The recruiter will then match you with open positions for which they think you'd be a good fit. If you decide to pursue a job that the staffing agency has found for you, they'll help you with the interview and onboarding process.
Astrix understands that you are more than just your skills or resume. Our recruiters take the time to know what makes YOU, so we can match up with a job opportunity that will support both goals in long-term careers together!
Do I have to pay for this service?
No, it does not cost money to use a staffing agency to find a job. Staffing agencies are typically paid by the companies that they place workers with.
What types of job placements do staffing agencies provide?
Staffing companies provide job seekers with several placements, including contract, contract to hire, and direct placement. Each type of placement has its advantages and disadvantages, so it's essential to choose the one that best suits your needs.
Working with a staffing partner like Astrix provides flexible placements that best match your needs. These include:
Contract
A placement where the individual is hired for a specific period, after which the contract will be renewed or ended. Contractors are not typically hired directly by the company they work with; they are placed on a project-based assignment and paid through a third party (such as a staffing agency like Astrix).
Contract To Hire
Similar to a contract position but with the possibility of being hired on as a permanent employee after the assignment after 3-9 months on average. This model is a great way to get your foot in the door of a new industry or gain experience as a recent graduate.
Direct Hire
Direct placement is a form of employment where you're hired permanently by the company without any initial contract period.
What types of clients/industries do you work with?
Not all staffing agencies work with every industry, so depending on what industry you are trying to get into or are currently in, it's essential to understand the industries the agency supports.
Start by asking what kind of companies and industries the agency works with. This will help you understand their expertise in that area and if they are a good fit for your needs.
Do staffing agencies offer benefits?
Some staffing agencies offer benefits to temp employees, including health insurance, vacation pay, and holiday pay. Check with your staffing agency to see if they provide these benefits.
At Astrix, we understand that a quality benefits package is essential to our commitment to you. As such, we provide several key benefits that support the health, happiness, and security of you and your family:
Three Choices of Health Insurance Plans
Dental Insurance
401(k) with matching contributions
Holiday Pay
Referral Bonus Plan
Direct Payroll Deposit
Paid Time Off
What does the process look like to work with a staffing agency?
The recruiting process typically begins when a company contacts the staffing agency to request workers for an open position. The staffing agency will then work with the company to determine the job requirements and identify qualified candidates. Once a candidate is selected, the staffing agency will help them prepare for their interview and begin the placement process.
The typical process for job seekers includes: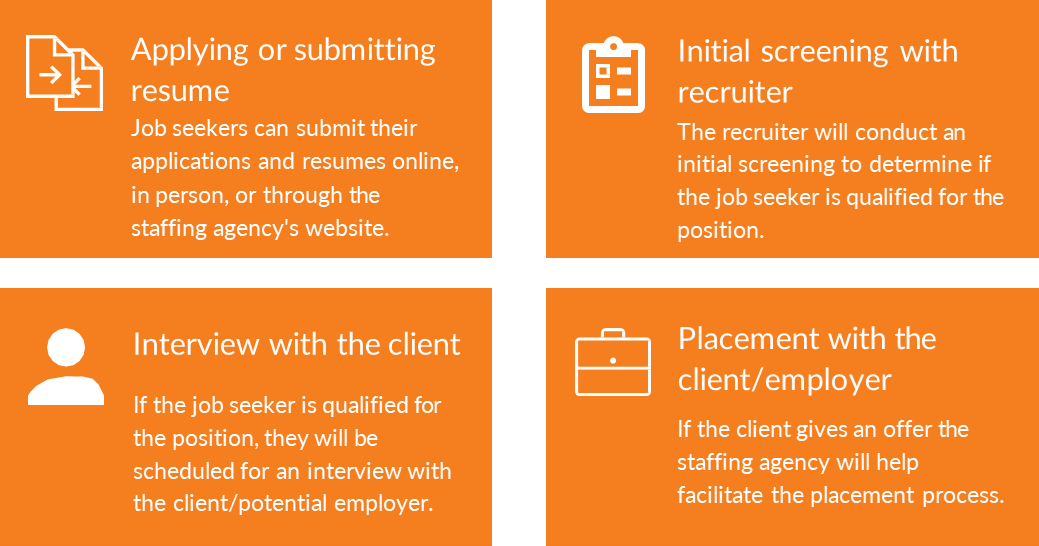 How do I search for available jobs to see if any are a good fit for me?
Most staffing agencies will post their available jobs on their website. For example, candidates can easily view all Astrix's available jobs here or submit their resumes for review by one of our recruiting experts.
How am I paid, and what does the payroll process look like?
This depends on the staffing agency you work with. Most agencies require you to submit the hours worked each week for approval by the client before the end of the week (typically before the end of the day Friday).
If you have elected direct deposit, funds are usually available within 24-48 hours, depending on your bank. If you do not have direct deposit, a live check is mailed on the day the payroll is issued. Generally, it can take five business days to deliver a mailed check.
Candidate Tip: Submit your hours accurately and timely: Ensure there isn't a delay in your pay. Make sure to ask your agency the day your timecard needs to be submitted each week and to submit your timecard by that date weekly. Timecards must be approved by the manager/direct supervisor you are working with, and if there is a delay when you are submitting your hours, there may be a delay in getting paid.
What are the benefits of using a staffing agency for job seekers?
A staffing agency can help you find a job that matches your skills and experience. They can also help you get your foot in the door at a company you might not have been able to get hired at otherwise. Using a staffing agency can also speed up finding a job.

What are some tips for working with a staffing agency?
Here are some tips for working with a staffing agency:
Be clear about what you're looking for in a job. Staffing agencies can't help you if they don't know what you're looking for.
Be specific about the type of job, salary, and hours you're interested in.
Keep your resume up to date. Make sure your staffing agency has the most current version of your resume.
Be responsive to staffing agency staff. Staffing agencies are trying to help you find a job, so it's essential to respond to their requests for information or meetings.
Follow up after interviews. If you've had an interview with a company through a staffing agency, follow up with a thank-you note or email.
Let the staffing agency know if you're no longer interested in a job. If you've been presented with a job opportunity that isn't a good fit, let your staffing agency know so they can continue their search for you.
Conclusion
Staffing agencies can be an excellent resource for job seekers. They can help you find a job that is a good match for your skills and experience and can provide professional support throughout the recruiting process. Be sure to keep these tips in mind when working with a staffing agency to ensure a successful job search.
How Astrix can help you find your next job
At Astrix, we understand that you are more than just your skill set or resume. Our recruiters take the time to understand your goals and interests so that we can connect you to the perfect job opportunity. We are committed to supporting you throughout your job contract and being a long-term career partner.
If you are interested in applying for employment and need special assistance or accommodation to use our website or to apply for a position, please get in touch with Human Resources via email at hr@astrixinc.com or via telephone at (732) 661-0400, extension 201.
You may also submit your resume to a staffing professional for evaluation