Expert news and insights for scientific & technology professionals.
The Life Science Industry Blog for R&D Professionals
National Institutes of Health (NIH) Research Updates – August 2022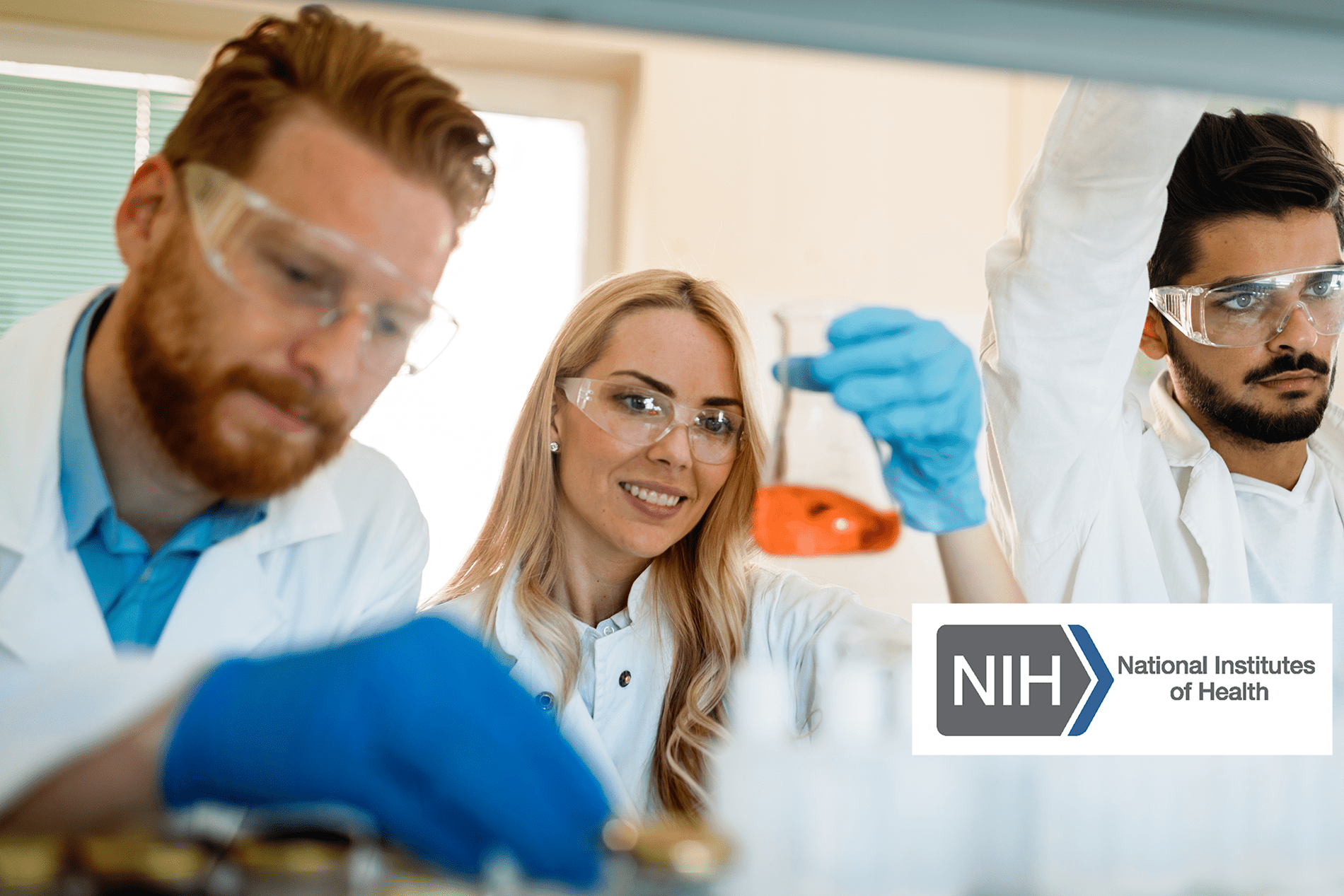 The National Institutes of Health (NIH) is our nation's medical research agency. Its mission focuses on scientific discoveries that improve health and save lives. Founded in 1870, the NIH conducts its scientific research through its Intramural Research Program (IRP), which supports approximately 1,200 principal investigators and more than 4,000 postdoctoral fellows conducting basic, translational, and clinical research. In this blog, we will highlight recent innovative NIH research.
Recent National Institutes of Health Research
NIH study finds loss of 'youth' protein may drive aging in the eye
According to new research in mice from the National Eye Institute (NEI), the protein pigment epithelium-derived factor (PEDF), which safeguards retinal support cells, may be lost due to aging and lead to age-related changes in the eye.
"People have called PEDF the 'youth' protein because it is abundant in young retinas, but it declines during aging," said Patricia Becerra, Ph.D., chief of NEI's Section of Protein Structure and Function and senior author of the study. "This study showed for the first time that just removing PEDF leads to a host of gene changes that mimic aging in the retina."
Past research from Becerra's lab and others has shown that PEDF protects retinal cells from damage and abnormal blood vessel growth, thanks to its ability to promote the differentiation of retinal precursor cells. When PEDF binds to its receptor, PEDF-R, it activates it to break down lipid molecules (a crucial component of the outer segment recycling process). PEDF also directly inhibits VEGF (vascular endothelial growth factor), a protein that promotes abnormal blood vessel growth.
To investigate the retinal function of PEDF, Becerra and colleagues studied a mouse model lacking the PEDF gene (Serpin1). The retinas of these PEDF-negative mice appeared normal at first, but when the cellular structure of the retina was examined, it showed that RPE cell nucleus sizes had increased. RPE cells also activated four genes linked to again and cellular senescence, showed significantly low PEDF receptor levels, and accumulated unprocessed lipids and other photoreceptor outer segment components in the RPE layer of the retina.
*"One of the most striking things was this reduction in the PEDF receptor on the surface of the RPE cells in the mouse lacking the PEDF protein," said the study's lead author, Ivan Rebustini, Ph.D., a staff scientist in Becerra's lab. "It seems there's some sort of feedback-loop involving PEDF that maintains the levels of PEDF-R and lipid metabolism in the RPE."
The study was made possible by the NEI intramural program. The federal government's research on the visual system and eye diseases is led by the National Eye Institute (NEI). For more information about NIH and its programs, visit www.nih.gov.
National Institutes of Health launches clinical trial of mRNA Nipah virus vaccine
The National Institute of Allergy and Infectious Diseases (NIAID), part of the National Institutes of Health, has launched an early-stage clinical study evaluating a vaccine to prevent Nipah virus infection.
Nipah virus is a zoonotic pathogen that can cause severe respiratory and neurological diseases in humans. The virus is found in several Southeast Asian countries, including Bangladesh, India, and Malaysia. No specific treatment or vaccine is available for Nipah virus infection, which has a high fatality rate.
"Nipah virus poses a considerable pandemic threat because it mutates relatively easily, causes disease in a wide range of mammals, can transmit from person to person, and kills a large percentage of the people it infects," said NIAID Director Anthony S. Fauci, M.D. "The need for a preventive Nipah virus vaccine is significant."
The experimental vaccine is based on the same mRNA technology used for the COVID-19 vaccine and was created by Moderna, Inc and the NAID Vaccine Research Center. The novel mRNA-1215 Nipah virus vaccine will be studied in a dose-escalation clinical trial to assess its safety, tolerability, and immune response-generating capacity in 40 adults 18 to 60.
For more information about the clinical trial, visit ClinicalTrials.gov using the study identifier NCT05398796.
The NIAID funds and supports research at NIH throughout the United States and worldwide to investigate the causes of infectious and immunological diseases and develop more effective ways to prevent, detect, and treat these illnesses. The NIAID website provides news releases, fact sheets, and other NIAID-related materials.
Dabrafenib–Trametinib Combination Approved for Solid Tumors with BRAF Mutations
The Food and Drug Administration (FDA) has approved the combined treatment of dabrafenib (Tafinlar) and trametinib (Mekinist) for patients with nearly any sort of advanced solid tumor that contains a specific mutation in the gene BRAF. Dabrafenib and trametinib block different growth-promoting signals in tumor cells activated by the V600E BRAF mutation.
The FDA's decision was based on data from three clinical trials, including two with adult patients and one with children. Some participants in the study had rare tumors, such as biliary tract cancer, ovarian cancer, and glioma (a type of brain tumor).
"Many types of metastatic cancers are tested for BRAF mutations, and the FDA approval is one more reason to have this testing," said Lyndsay Harris, M.D. She leads NCI's Cancer Diagnosis Program. She is also a lead investigator with NCI-MATCH, one of the clinical trials that led to the new approval.
The clinical trials enrolled adult patients with different types of tumors and assigned them to baskets based on criteria such as the molecular features of their tumors. The Novartis pediatric trial included low-grade gliomas and Langerhans cell histiocytosis patients who had relapsed after initial therapy or resisted treatment.
Overall response rates were 46%, 33%, and 50% for adults with biliary tract cancer, high-grade gliomas, and low-grade gliomas, respectively. In children, the overall response rate was 25%. Most of these individuals had responses that persisted for at least six months, and 44 percent had responses that lasted longer than a year.
The most common side effects of the combination therapy in adults included fever, fatigue, nausea, and rash. "The treatment was well tolerated," Dr. Harris said. "The side effects were identical to those reported in previous trials of the dabrafenib–trametinib combination."
The adverse effects in pediatric participants were comparable to those in the adult trials.
Basket trials like these might help researchers overcome current clinical restrictions by allowing them to compare various therapies in a wide range of unconventional malignancies.
"As we learn more about the molecular underpinnings of cancer, [basket trials] will continue to become more common," predicted Dr. Salama, director of the melanoma program at Duke Cancer Institute and co-lead of the NCI-MATCH sub-study. "These studies are complicated to conduct, but they may also be one of the best ways to bring new treatment options to the clinic."
Preterm Birth More Likely With Exposure to Phthalates
According to a study by the National Institutes of Health (NIH), women with higher levels of phthalate metabolites in their urine were more likely to give birth preterm. Phthalates are used in personal care items, such as fragrances and cleansers, solvents, detergents, and food packaging.
"Having a preterm birth can be dangerous for both baby and mom, so it is important to identify risk factors that could prevent it," According to Dr. Kelly Ferguson, an epidemiologist at the National Institute of Environmental Health Sciences (NIEHS) and the lead author of the study.
Ferguson and her team analyzed data from 16 studies of over 6 thousand pregnant women in the USA who delivered between 1983-2018. The study found that higher levels of many phthalate metabolites were linked to a higher risk of preterm delivery. 9% or 539 of the women in the study delivered preterm, and Phthalate metabolites were detected in over 96% of urine samples.
Interventions that target behaviors, such as attempting to purchase phthalate-free personal care goods (if mentioned on the label), corporate initiatives to decrease phthalates in their goods, or adjustments in standards and regulations, can help reduce exposure and safeguard pregnancies.
"It is difficult for people to completely eliminate exposure to these chemicals in everyday life, but our results show that even small reductions within a large population could have positive impacts on both mothers and their children," said Barrett Welch, Ph.D., a postdoctoral fellow at NIEHS and first author on the study.
Additional research is needed to understand how phthalates might harm pregnancy and if there are any methods for moms to reduce their exposures.
Researchers discover how sound reduces pain in mice
A new study of how sound reduces pain in mice may point to more effective pain therapies. The study was led by researchers at the National Institute of Dental and Craniofacial Research (NIDCR), the University of Science and Technology of China, Hefei; and Anhui Medical University, Hefei, China.
"We need more effective methods of managing acute and chronic pain, and that starts with gaining a better understanding of the basic neural processes that regulate pain," said NIDCR Director Rena D'Souza, D.D.S., Ph.D. "By uncovering the circuitry that mediates the pain-reducing effects of sound in mice, this study adds critical knowledge that could ultimately inform new approaches for pain therapy."
The researchers exposed mice with inflamed paws to three types of sound: pleasant music, an unpleasant rearrangement of the same piece, and white noise. When all three sounds were played at a low level relative to background noise, their ability to reduce pain sensitivity was comparable. Higher volumes of the same noises did not affect pain perceptivity.
"We were really surprised that the intensity of sound, and not the category or perceived pleasantness of sound, would matter," said co-senior author Yuanyuan (Kevin) Liu, Ph.D., a Stadtman tenure-track investigator at NIDCR.
Researchers used non-infectious viruses and bright colors to map connections between regions to understand how this impact works in the brain. They located a pathway from the auditory cortex. In the absence of sound, light- and small molecule-based techniques that suppressed the pathway reproduced the pain-killing effects of low-intensity noise while turning it on restored sensitivity to pain.
The findings may be a starting point for future research to determine whether animal data apply to humans and, if they do, whether they are linked with other health concerns.
Small NIH study reveals how immune response triggered by COVID-19 may damage the brain
A new study by researchers from the National Institute of Neurological Disorders and Stroke (NINDS) shows that COVID-19 infection causes an immune response in the brain's blood vessels, resulting in short- and long-term neurological issues.
"Patients often develop neurological complications with COVID-19, but the underlying pathophysiological process is not well understood," said Avindra Nath, M.D., clinical director at NINDS and the senior author of the study. "We had previously shown blood vessel damage and inflammation in patients' brains at autopsy, but we didn't understand the cause of the damage. I think in this paper we've gained important insight into the cascade of events."
When studying the brain of nine individuals who died from the virus, Dr. Nath and his team discovered immune complexes on the cell surface, demonstrating that COVID-19 antibodies may mistakenly target blood-brain barrier cells (made up of tightly packed endothelial cells). The findings suggest that the immune system is involved in an antibody-driven assault that activates endothelial cells.
"Activation of the endothelial cells brings platelets that stick to the blood vessel walls, causing clots and leakage to occur. At the same time the tight junctions between the endothelial cells get disrupted causing them to leak," Dr. Nath explained. "Once leakage occurs, immune cells such as macrophages may come to repair the damage, setting up inflammation. This, in turn, causes damage to neurons."
In regions with endothelial cell damage, researchers discovered that 300 genes linked to oxidative stress, DNA damage, and metabolic dysregulation were downregulated, while six others were upregulated. It's possible that antibodies against the SARS-CoV-2 spike protein could bind to the ACE2 receptor, which the virus uses to enter cells. However, it remains unclear what antigen the immune response targets as the virus was not detected in the brains of the individuals they studied.
"It is quite possible that this same immune response persists in Long COVID patients resulting in neuronal injury," said Dr. Nath. "There could be a small, indolent immune response that is continuing, which means that immune-modulating therapies might help these patients. So these findings have very important therapeutic implications."
Understanding how COVID-19 SARS-CoV-2 infection might cause brain damage may aid the development of treatments for COVID-19 patients who suffer from long-term neurological disorders.
Upcoming Events:
The history of genomics told through machine learning
Aug 4, 2022, 1:00 PM — 2:00 PM
Accelerating Precision Environmental Health: Demonstrating the Value of the Exposome
August 5, 12, 19, 26: Virtual Workshop Series
Complex Exposures in Breast Cancer: Unraveling the Role of Environmental Mixtures
Wednesday, August 24 – Thursday, August 25, 2022
NIH Hosting Two-Part Webinar on Implementing the NIH Data Management and Sharing Policy
Thursday, August 11, 2022, from 1:30–3:00 p.m. (ET) and Thursday, September 22, 2022, from 1:30–3:00 p.m. (ET)
Irreducible Subjects: Disability and Genomics in the Past, Present and Future 
Thursday, October 6, 2022, 10:00 am to Friday, October 7, 2022, 5:00 pm (registration required)
About Our Government Staffing Services
Astrix has been providing staffing services to the federal government, as well as various municipal and state governments, for over two decades. Our staff are highly trained in science-based laboratory environments, and we utilize our Staffing and Professional Services Divisions to provide solutions that meet the specific needs of our clients. We work closely with our clients to ensure they receive the highest quality service and support possible. If you would like to learn more about our government staffing service offerings, please contact us.