Expert news and insights for scientific & technology professionals.
The Life Science Industry Blog for R&D Professionals
National Institutes of Health (NIH) Research Updates – September 2022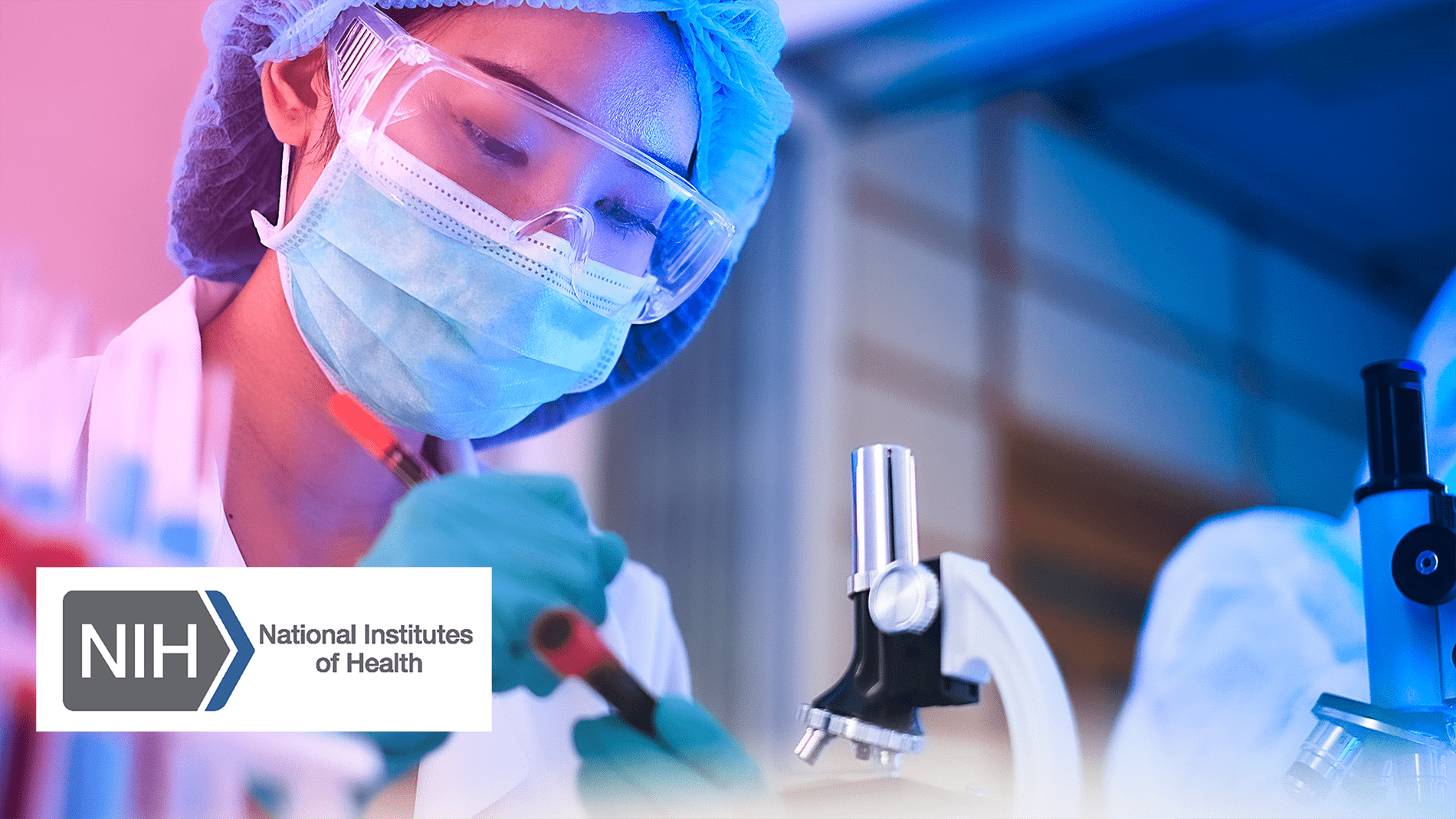 The National Institutes of Health (NIH) is our nation's medical research agency. Its mission focuses on scientific discoveries that improve health and save lives. Founded in 1870, the NIH conducts its own scientific research through its Intramural Research Program (IRP). It supports approximately 1,200 principal investigators and more than 4,000 postdoctoral fellows conducting basic, translational, and clinical research. In this blog, we will highlight recent innovative NIH research.
Recent NIH Research
Novel blood test helps evaluate severity in pulmonary arterial hypertension, a rare lung disease.
Pulmonary arterial hypertension (PAH) is a rare form of pulmonary hypertension that causes a blockage, narrowing, or destruction of blood vessels in the lungs. This leads to a decrease in blood flow and an increase in blood pressure in the lung arteries.
PAH severity is monitored via risk prediction scores based on clinical evaluations and invasive catheters used to measure lung pressure. Doctors occasionally use echocardiography to measure heart pressure, but these tests are not reliable or sensitive enough.
"Researchers have been actively searching for novel, less-invasive approaches to evaluate PAH severity, disease progression, and response to therapy for more than a decade. These cell-free DNA analyses represent progress toward that goal," said study co-author Michael A. Solomon, M.D., M.B.A., who is part of the NHLBI Cardiovascular Branch and co-director of the NIH Clinical Center Pulmonary Arterial Hypertension Section.
Co-author and chief of NHLBI's Applied Precision Omics, Sean Agor-Enoh, MD., PHD., agreed and added, "Here we're proposing a one-time test where you collect a vial of blood from a patient and use that to predict survival. We're very encouraged by the early results."
NIH researchers used a new blood test to measure DNA fragments shed by damaged cells. They found that these fragments, called cell-free DNA, were elevated in the blood of patients with PAH and increased with disease severity. Further analysis of the cell-free DNA samples revealed that PAH affected significant tissue types such as the heart, blood vessels, inflammatory cells, and fat tissue.
These findings will help researchers understand which specific tissues are involved as PAH progresses and could allow doctors to intervene faster to prevent or delay the progression of the disease and possibly save lives.
The research was supported by the NIH Clinical Center Research Award for Staff Clinicians Program, the NIH Distinguished Scholar Award, the Lasker Clinical Research Scholars Program, and the Intramural Research Programs of the NIH Clinical Center.
To learn more about the study, click here.
NIH study of tea drinkers in the UK suggests health benefits for black tea
A prospective study of tea drinkers in the UK led by researchers at the National Cancer Institute suggests that black tea may have health benefits. Black tea is the most common type of tea consumed in the U.K.
The study involved 498,043 men and women between the ages of 40 and 69 who participated in a large cohort study called the UK biobank. The study participants completed an initial baseline touchscreen questionnaire from 2006- 2010 and were followed for 11 years.
Researchers found that compared to non-tea drinkers, daily consumption of two or more cups of tea lowered the risk of death by 9%-13%. The study also found that higher tea consumption was associated with a lower risk of death from cardiovascular disease, ischemic heart disease, and stroke. These findings suggest that even at higher levels of intake, black tea can be part of a healthy diet.
SARS-CoV-2 Antigen Levels Linked to Patient Outcomes
According to a new study by the National Institute of Allergy and Infectious Diseases (NIAID), which is a part of the National Institute of Health, higher SARS-CoV-2 antigen levels are associated with clinical outcomes and illness severity in patients hospitalized with COVID-19.
During the initial ACTIV-3 trial, researchers took a baseline blood sample from patients hospitalized with COVID-19 from August 2020 to November 2021. Unless contraindicated, all patients in the trial received remdesivir and were randomized to receive an experimental COVID-19 therapeutic or a placebo.
In this follow-up study of the ACTIV-3 trial, researchers analyzed the same baseline blood samples for SARS-COV-2 antigen levels to determine the association with disease progression.
The follow-up study found that high blood antigen levels correlated with known risk factors for worse illness, such as being male. These findings suggest that antigen levels in the blood are a biomarker for ongoing viral replication and could be used to predict disease progression and outcome. Further clinical research could help determine which patients are most likely to benefit from antiviral therapy.
Click here to learn more about this study.
Monoclonal Antibody Prevents Malaria in U.S. Adults, NIH Trial Shows
The World Health Organization estimates that in 2020, about 240 million people will have malaria, and about 627,000 will die. Malara is a misquote-borne disease caused by Plasmodium parasites. It causes high fevers, chills, and other flu-like symptoms. The disease is serious and can be fatal and accounts for 80% of malaria deaths in children under 5 in Africa.
While there is an available vaccine to prevent malaria, the vaccine's efficacy is variable. However, the results of the phase 1 clinical trial led by researchers from the National Institutes of Health's Vaccine Research Center offer promise for higher levels of protection against the disease.
"These early clinical trial results demonstrating that a monoclonal antibody administered subcutaneously can protect people from malaria are highly encouraging," said NIAID Director Anthony S. Fauci, M.D. "A one-time intervention that protects against malaria for six months to a year could significantly reduce morbidity and mortality among children in malaria-endemic regions and offer an effective preventive tool for health care workers, military personnel, and travelers to these areas."
In the study, led by Lt. Cmdr. Richard Wu, M.D., staff clinician in the VRC's Clinical Trials Program, researchers developed a candidate monoclonal (L9LS), a lab-made version of a natural antibody for malaria prevention. The antibody kills parasites in the skin and blood before liver cell infection, which prevents malaria. The Phase 1 clinical trial included 18 adult U.S. adults who received L9LS intravenously or subcutaneously. They were then exposed to the disease via malaria-carrying mosquitoes.
It was found that 88% of the study participants were protected from malaria infection and that all volunteers in the control group who did not receive the L9LS injection were infected (they were treated without disease complications). These findings help show that one injection of L9LS is safe and effective in protecting U.S. adults exposed to the disease.
"This is the first demonstration that a monoclonal antibody can provide protection when given by the subcutaneous route, with important implications for widespread clinical use and reaching the goal of eliminating malaria," said Robert Seder, M.D., chief of the Cellular Immunology Section in the VRC, who led the development of L9LS. "We look forward to results in larger field studies that will help establish an effective dose."
For more information about the trial, please visit ClinicalTrials.gov and search identifier NCT05019729.
NIH-developed multidimensional MRI can detect "invisible" brain injuries, studies suggest
Researchers at the National Institutes of Health have developed a multidimensional magnetic resonance imaging method to detect astrogliosis. Conventional MRI methods are not sensitive enough to detect microscopic brain injuries such as axonal injury (a type of TBI) and astrogliosis.
Astrogliosis is a neuroinflammatory response that increases the size and number of astrocytes caused by neurodegenerative disease, disorders, and neurological conditions such as traumatic brain injury (TBI).
Researchers conducted two studies using this new MRI method to study the brains of seven military service members with astrogliosis from TBI against seven people who did not. They found that astrogliosis causes microscopic brain tissue changes that result in a distinct multidimensional MRI pattern. They also studied areas with and without astrogliosis in the same brain to map out areas of astrogliosis.
A previous study using similar methods found that astrogliosis and axonal injury had opposite effects on certain parameters of the MRI spectra. These findings suggest that both conditions could be detected in the same brain via multidimensional MRI.
"In the past, finding potential MRI biomarkers was a fishing expedition," says NICHD's Dr. Basser. "Now we're at least fishing with sonar."
Researchers are now working on adapting the multidimensional MRI method to detect neurological diseases and disorders such as astrogliosis in people. If this new method can be successfully adapted for live humans, it could be a valuable tool to identify other MRI biomarkers for injury and tissue damage, neuroimaging studies of brain injury, aging, disease and repair, and personalized diagnosis and therapy for neurological conditions such as TBI.
NIH first to develop 3D structure of twinkle protein
Researchers at the National Institutes of Health have developed a three-dimensional structure that allows them to see how and where disease mutations on the twinkle protein, which is involved in helping our bodies use the energy converted from food, can lead to mitochondrial diseases.
Mitochondrial diseases are inherited conditions that affect 1 in 5,000 people with very few treatment options available. Before developing this 3D structure, researchers could only use models and couldn't find how mutations contribute to the disease.
The mitochondria have their own DNA, known as mitochondrial DNA (mtDNA), which is unique from other specialized cell structures. While a cell's nucleus has two copies of each chromosome, mitochondria can have thousands of copies of mtDNA, and an accumulation of mutations can lead to mitochondrial disease.
"For the first time, we can map the mutations that are causing a number of these devastating diseases," said lead author Amanda A. Riccio, Ph.D., and researcher in the National Institute of Environmental Health Sciences (NIEHS) Mitochondrial DNA Replication Group, which is part of NIH. "Clinicians can now see where these mutations lie and can use this information to help pinpoint causes and help families make choices, including decisions about having more children."
Researchers used cryo-electron microscopy to study W315L, a clinical mutation, and observed thousands of protein particles in different orientations. They also used mass spectrometry and computer simulations to verify the structure and understand why mutations resulted in the disease.
They mapped out 25 disease-causing mutations within twinkle and found that mutations at the junction of two protein subunits weakened how the subunits interact, making the helicase unfunctional.
"What is so beautiful about Dr. Riccio and the team's work is that the structure allows you to see so many of these disease mutations assembled in one place," said Matthew J. Longley, Ph.D., an author, and NIEHS researcher. "It is very unusual to see one paper that explains so many clinical mutations. Thanks to this work, we are one step closer to having information that can be used to develop treatments for these debilitating diseases."
These new findings could help develop targeted treatments for patients with mitochondrial diseases.
For more information and a video about Cryo-electron microscopy at NIEHS, see https://factor.niehs.nih.gov/2017/12/feature/feature-1-cryo-em/index.htm.
Researchers identify possible target for a type of sporadic ALS
Reactivation of human retroviruses (HERVS) has been implicated in neurodegenerative diseases such as ALS. Amyotrophic lateral sclerosis (ALS) is a rare neurodegenerative disease affecting nerve cells responsible for controlling voluntary muscle movement.
Two studies published as part of a cooperative search agreement between the National Institute of Neurological Disorders and Stroke (NINDS), part of the NIH, and GeNeuro Inc, a biotechnology company based in Switzerland, have identified a potential new pathway to treat sporadic ALS.
The first of the two studies showed that HERV-K ENV, a protein produced by HERV, can be found in the cerebrospinal fluid of ALS patients. The protein was toxic when added to laboratory-grown neurons, produced symptoms similar to ALS in mice genetically designed to create HERV-K ENV, and adding CSF from ALS patients to the lab-grown neurons caused cell damage. These findings implied improper HERV-K ENV activation could cause symptoms in certain sporadic ALS cases.
Toxic effects were reduced when a synthetic antibody designed to target HERV-K ENV was added to the neurons. Following this discovery, researchers looked to see if the immune system of ALS patients produced any antibodies
The second study showed that ALS patients produced higher and more complex HERV-K ENV antibodies than healthy donors. Higher levels of antibodies were also correlated with longer changes of survival.
Together, these findings support the hypothesis that a reactivation of the HERV-K virus plays a role in the development of ALS and that an antibody response against it is protective. These data also suggest that treatment with a synthetic antibody raised against HERV-K-ENV might have beneficial effects in people with ALS. They also have evidence of HERV-K reactivation.
Upcoming Events:
Malnutrition in Clinical Settings: Research Gaps and Opportunities
Monday, September 12, 2022, 12:00 pm to Tuesday, September 20, 2022, 5:00 pm
How Does Diversity Affect Innovation in Pharma
Wednesday, September 14, 2022, 12:00 pm to 1:00 pm
2022 Cancer Immunology and Immunotherapy Conference: Discovery to Mainstream Oncology
Thursday, September 15, 2022, to Friday, September 16, 2022
Yet to Be Charted: Lymphatic System in Health and Disease
Monday, September 19, 2022, 8:20 am to Tuesday, September 20, 2022, 3:20 pm (register by September 15)
Irreducible Subjects: Disability and Genomics in the Past, Present, and Future 
Thursday, October 6, 2022, 10:00 am to Friday, October 7, 2022, 5:00 pm (registration required)