Expert news and insights for scientific & technology professionals.
The Life Science Industry Blog for R&D Professionals
National Institutes of Health (NIH) Research Updates – Feb 2023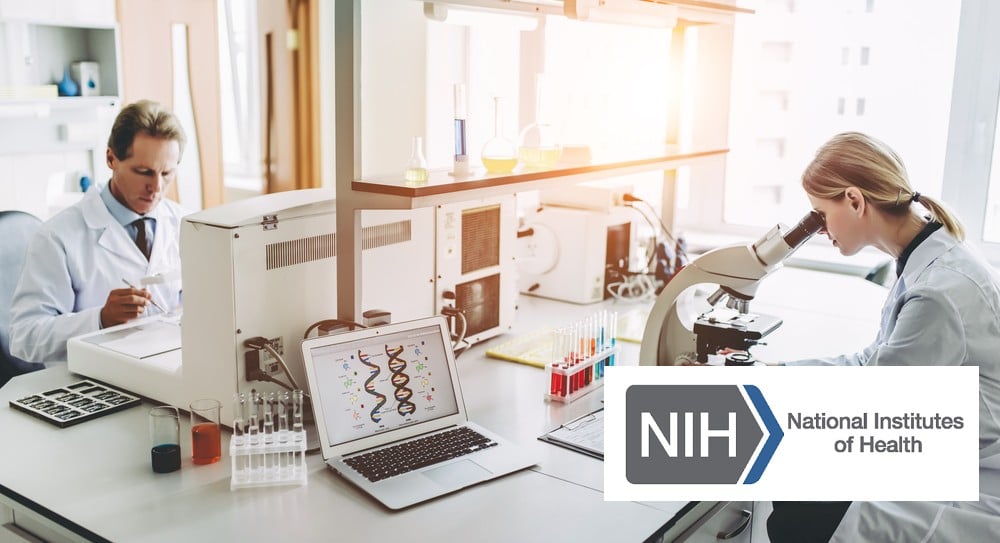 The National Institutes of Health (NIH) is our nation's medical research agency. Its mission focuses on scientific discoveries that improve health and save lives. Founded in 1870, the NIH conducts its own scientific research through its Intramural Research Program (IRP). It supports approximately 1,200 principal investigators and more than 4,000 postdoctoral fellows conducting basic, translational, and clinical research. In this blog, we will highlight recent innovative NIH research.
Recent NIH Research
IRP researchers have released the results of their study suggesting that "a two-pronged approach that relies in part on an existing anti-cancer drug could more effectively thwart a particularly deadly form of brain cancer."  The report on the study's effectiveness is subtitled, "Additional Treatment Cuts off Tumor Cells' Escape Route From Anti-Cancer Drug," because the addition of an RNA molecule called small interfering RNA (siRNA), to trametinib therapy, showed promise in curbing the production of PRMT5 in glioblastoma cells.
IRP staff scientist Yeshavanth Banasavadi, the study's first author says, "There have been multiple studies that show siRNAs, being biological agents, are a better option than using those drugs."  However, Dr. Banasavadi added that "In isolated cells, that's easy to do, but in animals or humans, it's more difficult. We are trying to come up with different strategies," including delivering siRNAs directly to tumors via nanoparticles.
Marburg vaccine shows promising results in first-in-human study
According to a January 30th NIH report, a vaccine developed by researchers at the National Institute of Allergy and Infectious Diseases (NIAID) could someday be an important tool to against outbreaks of Marburg virus. The report refers to a newly published paper in The Lancet.
The Lancet article describes how this first-in-human, Phase 1 study tested an experimental MARV vaccine candidate, known as cAd3-Marburg (developed at NIAID's Vaccine Research Center) uses a modified chimpanzee adenovirus ("cAd3"), rendered unable to replicate, displays a glycoprotein found on the surface of MARV to induce immune responses against the virus.
In fact, the Lancet article documents that, "the investigational vaccine appeared to induce strong, long-lasting immunity to the MARV glycoprotein with 95% of participants in the trial exhibiting a robust antibody response after vaccination, and 70% maintaining that response for more than 48 weeks."
NIH reports that "Plans are in place to conduct further trials of the cAd3-Marburg vaccine in Ghana, Kenya, Uganda, and the United States. If additional data supports the promising results seen in the Phase 1 trial, the cAd3-Marburg virus vaccine could someday be used in emergency responses to MARV outbreaks." Probiotic markedly reduces S. aureus colonization in Phase 2 trial.
Probiotic markedly reduces S. aureus colonization in Phase 2 trial
A recently published NIH study presents evidence that a probiotic can markedly reduce the presence of potentially life-threatening S. aureus colonization in the human gut.
As published in the Lancet, a Phase 2 clinical trial conducted by Michael Otto, Ph.D., an NIH senior investigator at the National Institute of Allergy and Infectious Diseases (NIAID), have found that using B. subtilis probiotic once daily for four weeks instead of antibiotics – was safe and highly effective against staph infection.  This finding is important because, as the NIH reports, "S. aureus often lives in the nose, on the body, and in the gut without causing any harm. However, if the skin barrier is broken, or the immune system compromised, these colonizing bacteria can cause serious skin, bone, lung, and blood infections."
Dr. Otto, the trial's lead researcher, explained that "The probiotic we use does not 'kill' S. aureus, but it specifically and strongly diminishes its capacity to colonize. We think we can target the 'bad' S. aureus while leaving the composition of the microbiota intact."
While the use of probiotics takes longer than antibiotics, Dr. Otto and his team are optimistic because, "Our results suggest a way to safely and effectively reduce the total number of colonizing S. aureus and also call for a categorical rethinking of what we learned in textbooks about S. aureus colonization of the human body."
As reported by the NIH, "the researchers plan to continue their work by testing the probiotic in a larger and longer trial. Study collaborators in Thailand are from Rajamangala University of Technology Srivijaya, and Prince of Songkla University."
New approach successfully traces genomic variants back to genetic disorders
A genotype-first approach has been shown by NIH researchers to uncover new links to genetic conditions. As reported in January, a study of their results published in the American Journal of Human Genetics has documented that a genotype-first approach to patient care (that involves selecting patients with specific genomic variants and then studying their traits and symptoms) has "uncovered new relationships between genes and clinical conditions, broadened the traits and symptoms associated with known disorders, and offered insights into newly described disorders."
Caralynn Wilczewski, Ph.D., a genetic counselor at the National Human Genome Research Institute's (NHGRI) Reverse Phenotyping Core, authored the assessment of 13 studies that took a genotype-first approach to patient care. She reports that, "We demonstrated that genotype-first research can work, especially for identifying people with rare disorders who otherwise might not have been brought to clinical attention." The report has great potential to aid people with both rare diseases and genetic conditions.
The phenotype-first approach limits researchers from understanding the full spectrum of symptoms of the disorders and the associated genomic variants.
Leslie Biesecker, M.D., NIH distinguished investigator, director of NHGRI's Center for Precision Health Research, and a senior author of the article added, "Genomics has the potential to change reactive medicine into preventative medicine. Studying how taking a genotype-first approach to research can help us learn how to model predictive and precision medicine in the future.",
As the NIH reports, NHGRI researchers recommend institutions aiming to establish genotype-first centers create strategic plans, especially for deciding what genomic findings will be returned, which may involve genetic counseling services. Importantly, according to the study, researchers must actively communicate with study participants to build informed and trusting long-term relationships.
"In the future, as more researchers adopt this approach, said Dr. Wilczewskiwe, hope to identify more people who may be helped by the availability of their genome sequence, especially as more diverse populations join genome-sequencing studies."
Good hydration linked to healthy aging
Expanding on research scientists published in March 2022, which found links between higher ranges of normal serum sodium levels and increased risks for heart failure, researchers in the Laboratory of Cardiovascular Regenerative Medicine at the National Heart, Lung, and Blood Institute (NHLBI), published a report in January with their findings that adults with serum sodium levels at the higher end of a normal range were more likely to develop chronic conditions and show signs of advanced biological aging than those with serum sodium levels in the medium ranges.
The data gathered from 11,255 adults over a 30-year period came from the Atherosclerosis Risk in Communities (ARIC) study, which includes sub-studies involving thousands of Black and white adults from throughout the United States. "The results suggest that proper hydration may slow down aging and prolong a disease-free life," said Natalia Dmitrieva, Ph.D., a study author. Additionally, through analysis of links between serum sodium levels – which go up when fluid intake goes down – and various indicators of health, researchers showed that adults with higher serum sodium levels were also more likely to die at a younger age.
Researchers noted that, although randomized, controlled trials are needed to determine if optimal hydration can promote healthy aging, prevent disease, and lead to a longer life, associations can still inform clinical practice and guide personal health behavior.
"Decreased body water content is the most common factor that increases serum sodium, which is why the results suggest that staying well hydrated may slow down the aging process and prevent or delay chronic disease."
Events
Diet and Health 2023: Supplements, Diets, or Food Systems?
Wednesday, Mar 1, 2023, 11:00 AM – 12:00 PM
National Research Summit on Care, Services, and Supports for Persons Living With Dementia and Their Caregivers/care Partners
Monday, Mar 20, 2023, from 9:00 AM – 5:00 PM
Tuesday, Mar 21, 2023, from 9:00 AM – 5:00 PM
Wednesday, Mar 22, 2023, from 9:00 AM – 5:00 PM
NCI Symposium on Cancer Health Disparities
Tuesday, April 4 to Wednesday, April 5, 2023 (register by March 28)
2023 NCI RNA Biology Symposium
Thursday, April 27, 2023, to Friday, A